Tento seriál znám už opravdu dlouhou dobu, ale zároveň s (americkým) vysíláním jsem se srovnala až zhruba v polovině 7. řady což znamená, že seriál pravidelně sleduji již čtvrtým rokem. Prvních 6 a půl řady jsem zhltla téměř za dva týdny a už jsem nedokázala přestat a tímto blogem si krátím svuj volný čas a věnuju se něčemu co mě baví... Na řádcích níže se dočtete obecné informace, ke kterým jsem připojila své skromné vyjádření. Pokud chcete vědět více a pro podrobnější popisy jednotlivých epizod, celých sérií a postav, můžete navštívit některé z těchto stránek

- > KLIK < -
Takže o čemže to vlastně je??
Supernatural (Lovci Duchů) je americký hororový seriál, který běží už od roku 2005 vetšinu času na stanici The CW. Popisuje život dvou bratrů, kteří cestují po Americe a likvidují všechno nadpřirozené zlo na které narazí. Ovšem krom hororových prvků se můžete i docela zasmát a taky si i u některých scén pobrečet. Zvlášť finální epizody bývají dost emocionálně vypjaté.
Dost často se můžete dočíst, že první série jsou vykrádačky různých hororových příběhů ale upřímně není to až tak špatné a první tři série si udržují celkem solidní hororovou atmosféru. V seriálu se oběvují nejrůznější monstra; démoni, upíři, duchové, wendigo, čarodějnice, džinové, smrtky atp... Od čtvrté série se ovšem do dějové linky zamotají andělé a rozjíždíme se kapku odlišným směrem. (dle mého názoru je 4. a 5. série nejlepší z celého seriálu)
(tento odstavec nastiňuje dějovou linku)
Jelikož byla dějová linka původně naplánována jen na 5 sérií, se sérií 6tou bohužel kvalita drobátko klesla, i když pravdou je, že poslední asi 4 epizody jsou opravdu výborné zbytek série pokulhává. No a i když finále 6té řady a 1 epizoda řady 7 se také dají považovat za jedny z nejvíc epických epizod, zbytek sedmé série je prostě podle mě nejslabší z celého seriálu. Nejvíce mě asi zamrzelo, že nám naši drazí tvůrci "zlikvidovali" dvě hlavní postavy, i když se později vrátili, celou sérii to stáhlo dolů. 8., 9. a 10. série se věnuje nejvíce andělům a démonů i když zápletka je stále zajímavá a poutavá. Za velmi dobrý dějový zvrat považuju taky návštěvu očistce nebo pád andělů.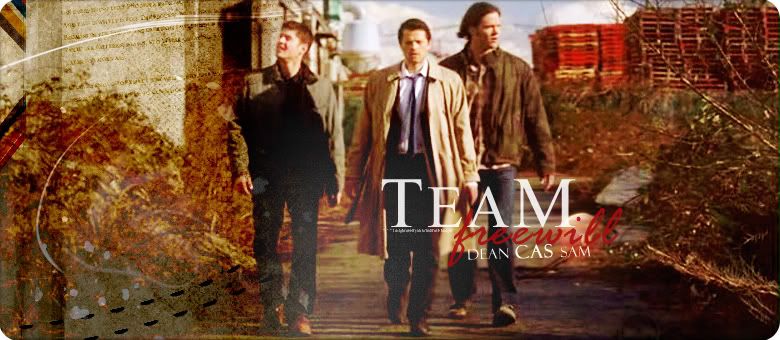 Co se týká audiovizuální stránky celého seriálu efekty jsou opravdu solidní a hudba (jakožto klasický rock - ACDC, Kansas, Metallica, atp...) krásně podtrhuje celkový obraz. (Více v sekci

HUDBA

)
---
Takže konečně se dostávám k tomu proč vlastně seriál sledovat a koho by vlastně mohl zaujmout. Rozhodně nemůžu říct, že by to byl serial pouze pro určitou skupinu lidí, myslím si totiž, že snad každý kdo má alespoň trochu rád horory a fantasy tématiku, si seriál užije a najde si v něm to své "něco" co ho bude nutit koukat dál a dál. A pokud si neoblíbíte seriál jako celek pak veřím, že alespoň pár epizod se vám líbit bude.
Dále stojí za to zmínit sympatické trio hlavních postav Sama (Jared Padalecki) & Deana (Jensen Ackles), a všemi milovaného anděla Castiela (Misha Collins), kteří celý seriál táhnou kupředu a je zajímavé sledovat jak se tyto postavy vyvýjí a postupně se mění. Celý seriál je rovněž prošpikovaný narážkami na nejrůznější věci a také trefnými hláškami a sem tam padne i nějaké to "Son of a Bitch!".
Co byste ještě měli vědět než začnete sledovat.
Celý seriál má obrovský a velmi aktivní fandom, který se nejvíce projevuje na stránce tumblr.com. Zde také naleznete obrovské množství fanartu, fanfiction, meme, různé vyjádření a názory fanoušků i celé blogy věnované tomuto fenoménu, ale taky obrovskou kopu spoilerů. ;)
Zatím má seriál 10 sérií po přibližne 23 epizodách na sérii a jedna epizoda má okolo 42 minut.
(3. série pouze 16 epizod)
Vysílá se většinou od října do prosince a od ledna do května, poté následuje (bohužel) dlouhá pauza mezi sériemi.
! ! ! 11. série byla potvrzena v lednu 2015 ! ! ! (a dočkáme se jí v říjnu 2015)
Do češtiny bylo prozatím nadabováno 6. řad, které lze sledovat na TV Prima COOL a také online.
Slovenský název pro Supernatural/Lovci Duchů zní Hrozba z Temnoty. (TV Markíza)
A počkejte až se dostanete k té obrovské hromadě fanfiction. :D ;)
(zdroj: tumblr)
Rozhodně obohaťte tenhle článek o svůj názor na seriál :) budu jen ráda...
Za případne pravopisné chyby se omlouvám ;)